Also known as Appleton Estate 12 Year Old, the Appleton Estate Extra is easily one of my favorite rums, and thus long overdue for some analysis in this space.
OK, perhaps I'm giving away a bit much with such a lead-in, but I can't help it.  I've never really kept it a secret that I heartily enjoy the entire line of Appleton rums – from the Special to the 21 Year Old – so it hardly makes sense to be coy about it now.
The Appleton Estate Extra is a blend developed by Joy Spence's predecessor* at the Appleton Estate in Jamaica.  The rums used in the blend range in age from 12 years old up to 30 years old – all aged in oak casks on the estate.  Joy and her team carefully select the barrels of aged spirit and blend them to create a rum that stands out as one of the best Jamaican rums on the market.
Appearances
The rum has a deep, rich, mahogany color to it.  The inviting color glistens in the light as you turn the glass to inspect the legs, which hold fast to the glass as they slowly work their way back into the bowl.
Nose
The first note to reach your nose is the fruity scent of orange peel, followed by the warm aroma of toasted walnuts.  There's a very pleasant bit of vanilla at the top, riding just above the earthy and fruity notes.  There is a light richness to the nose, if that makes any sense – a good level of complexity without the heavier sweet aromas that you can sometimes find in rums.
Palate
Managing to put an end to trying to absorb the glass of rum entirely via its vapors, the taste is everything the nose had hinted at and more.  The entry is slightly sweet, with notes of vanilla, oak, and fruit.  The orange peel flavor appears and gives way to an almost cherry sensation followed by almonds.  The finish is warm and clean, with touches of pepper and spice, but leaving you with almost no burn in the throat.
The rum is light-bodied and has a very pleasant mouth-feel.  There is a very slight oily quality to the body that allows the rum to glide easily over the tongue and depart the palate cleanly.  This is a rum that can easily be sipped.  In fact, this is one of my favorite rums to sit down and enjoy neat or with a single ice cube while unwinding at the end of the day.
Mixing
The excellence of this rum doesn't end at sipping neat.  In addition to being one of my favorite sippers, it is also one of my favorite mixing rums.  With a greater complexity and smoother character than its younger siblings, the Appleton Estate Extra is an excellent choice for use in just about any rum cocktail.
My first impulse was to mix it up in a Mai Tai, but since I've already gushed about its incredible value in that particular drink, I figured I'd go for something a little different to show off the versatility of the rum.  As of late I've been very taken with the El Presidente, which is a drink made with rum, dry vermouth, orange liqueur, and grenadine.  I've found myself unable to get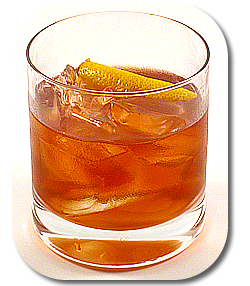 enough of these, which has led to incessant tinkering with the recipe to find ways to make it even more enjoyable.
Machado Cocktail

1.5 oz aged rum
.75 oz dry vermouth
.25 oz orange liqueur
.5 tsp grenadine
2 dashes bitters

Stir with ice, serve on the rocks with a twist of lemon.
The changes here are fairly minor.  Some may even argue that it doesn't even require a new name.  I'm always of two minds on this.  In this case I've reduced the orange liqueur, added bitters, and I serve it on the rocks instead of up.  I don't know whether that's enough to merit it's own name, but if you think it doesn't, I won't be offended if you make this and call it an El Presidente.  Lately I've been contemplating trying this with a grapefruit twist and possibly replacing the vermouth.
The Long & The Short Of It
There's not much I can say down here that I haven't already said.  The Appleton Estate Extra 12 Year Old is just a superb rum.  It works on its own or in a cocktail.  Its presence in your home bar is practically a necessity if you want to be serious about rum or cocktails or both.  Truly a master work of craftsmanship (craftswomanship?) – and an incredible bargain at less than $35 per bottle (750mL) – this is a rum that I can guarantee you I always have on-hand.
*Note: Thanks to Martin Cate for correcting my original assertion that Joy had developed the Extra
Dood's Rating: 4 Bottles of Rum Out of 5
For another perspective on Appleton Estate Extra, be sure to check out Silvio's review at Refined Vices
Tags: rum, rum reviews, appleton estate