While many rums embrace the pervasive idea that rum is a mixer to be poured with cola or blended with coconut water and never taken alone, others are fighting against the collegiate stereotype and attempting to establish the category as one equal in sophistication to whiskey or brandy.  Zaya is one of the latter.
Zaya Gran Reserva is a rum constructed of other rums.  It is a private label rum, meaning that the rum is purchased from various sources and then blended to create the final spirit that rests in a very nicely-crafted bottle.
In Zaya's case, the rums are sourced and blended in Trinidad and Tobago in the Southern Caribbean.  The rums in question have been aged a minimum of 12 years in used bourbon barrels before being blended together by the Master Blender.  Once the blend is complete, the rum is bottled at 80 proof (40% abv) and shipped to liquor stores and bars near you.
Appearances
In the bottle, as well as in the glass, Zaya has a deep, rich mahogany color with just a tinge of honey gold on the edges when it rests in the glass.  The rum has almost a velvety appearance all on its own.
Nose
A sniff of the rum reveals vanilla and caramel immediately and in a dominant fashion.  There is a strong, sweet smell as the two scents give way to notes of cocoa and banana.  After a little more searching you'll find a hint of orange peel at the very back of the nose, but vanilla and caramel continue to dominate throughout the nose.
The character of the nose is rich and sweet.
Palate
Rich and luxuriant vanilla and caramel great your palate on the entry, just as they did on the nose.  Notes of cocoa persist throughout the experience while underneath the heavy and sweet flavors you'll find hints of apples and bananas before the finish arrives with a strong showing of cherry accompanied with the ever present vanilla.
The body of the rum is heavy and oily, giving an almost velvety feeling on the tongue.  In the throat it leaves almost no burn whatsoever.  This is a rum that announces its presence to all of your senses.  The richness of flavor make this a good candidate to sip while enjoying a cigar.
Some people may find the richness and sweetness of Zaya to be a bit overwhelming for a sipper.  When it comes to personal taste, that's just how these things go.  Personally I prefer Zaya as the centerpiece in a cocktail or if I do sip it, I do so in conjunction with a cigar or appropriate food pairing (something savory and salty).  My partner/editor especially enjoys the heavy sweetness of Zaya along with its almost complete lack of any heat in the finish.
Mixing
Zaya is marketed as a sipping rum and if your taste runs more towards the sweet and rich side of the spectrum you'll find yourself in complete agreement.  Whichever direction your palate swings, though, you'll be hard-pressed to find a reason to keep Zaya out of your mixing glass or shaker.
Those same strong qualities of flavor and texture that make Zaya an excellent mate to a cigar make it a great centerpiece in a cocktail.  Zaya will not lay down in a drink, but plays well with other strong flavors.  One of my favorite ways to use Zaya is with ginger beer in a Dark'n'Stormy Jamaican Mule or Añejo Daiquiri.  It also makes a pretty fantastic Sweet Palmetto.
Lately I've been spending a lot of time at 320 Main in Seal Beach, California (for various reasons) where owner/head bartender Jason Schiffer has a drink that actually combines Zaya with the incredibly flavorful amaro, Fernet Branca.
The Devil's Own
by Jason Schiffer @ 320 Main

1.5 oz Zaya
.5 oz Fernet Branca
.25 oz Gran Gala
1 tsp Vanilla Syrup

Stir with ice and strain into a coupe that has been rinsed with absinthe.  Add a twist of lemon and discard the peel (no garnish).
The Long & The Short Of It
Zaya is a rum designed around the idea of a luxuriant sipper.  That it works so well in a cocktail is a very pleasant bonus.  Its intense vanilla and caramel flavors can be either very welcome or entirely off-putting depending on your palate, and a poll of rum or any other spirits connoisseurs will likely find the group fairly evenly split on where Zaya ranks compared to other premium rums.  In the end, Zaya is a rum I have a hard time picturing being absent from my bar.
Dood's Rating: 3 Bottles of Rum Out of 5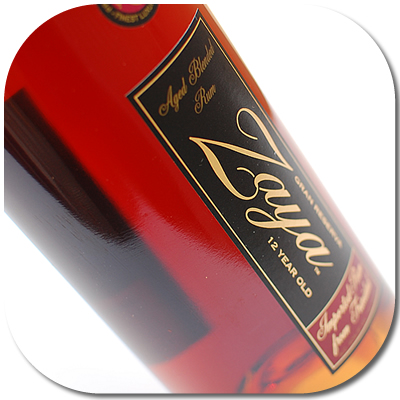 This site accepts samples for review. Please review our Policies & Disclaimers