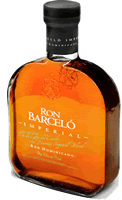 This week found me home alone, which is generally not a good thing.  Not that I can't take care of myself or that I'm a threat to burn down the house or anything like that (Mrs. Dood usually hides matches and other dangerous items before leaving), but if I'm left to my own devices with no one to reign me in, I'm likely to spend inordinate amounts of time standing in front of my rum shelf, puzzling over which bottle to pour next.  I might have 3 or 4 different rums in one night…or I might make myself the same cocktail over and over again while I watch TV or read.  The big problem with this tasting is that it often doesn't lead to reviews, as I get too caught up in trying this and then that and then this other one and so on.
Last night, however, I managed to put my game-face on and pulled out my trusty Muppets notepad and sat down with my bottle of Ron Barcelo Imperial.
I acquired this rum right before Christmas as trade-fodder for a fellow rum enthusiast, but our deal subsequently changed to be for entirely different bottles and the Barcelo ended up on my rum shelf for good.  It's a product of the Dominican Republic, which is rapidly becoming one of my favorite rum nations (you'll recall that the nation is also responsible for Ron Matusalem and Brugal, among others)…ranking right up there with Jamaica in my book.  I know a lot of people who kind of knock the Dominican rums because they don't have a distinctive style all their own (they're pretty much Cuban-style rums), but I say "Pbbbbbblltlltltltl".  I don't care if they didn't invent their own style of rum, they make rum with style.  The offerings from this half-island nation are spectacular and all-too-often overlooked.  Did you ever think that maybe the Cubans actually copied the Dominicans?  HUH?  Did you?  I mean, you can't prove that Cubans from the future didn't steal the Dominican style and then take it back in time to try and preempt the Dominican dominance of the rum market, so there.  On that note, if any time-traveling Cubans are reading this, can you bring me some Bacardi from the 1930's?
The Imperial product from Barcelo is a blend making use of rums aged up to 10 years in used Kentucky Bourbon casks, and is distilled using only Dominican sugar cane.  The bottle, as you can see above, is a terrific, stylish affair with a serial number on the back.  I mean, you know you've probably got something good when they keep a real serial number printed on the bottle rather than just a SKU (FYI, the bottle for this review was #683397).
Appearances
The rum is a cherry/mahogany color.  Giving my glass its customary swirl, the legs form crisply on the glass, slowly developing the inching tendrils back to the body of the liquid.
Nose
Now that I had the rum aerated and ready to go, it was time to investigate the aromas held within.  Let me tell you, this rum promises a lot.  It speaks to your senses through strong notes of cocoa, lemon, and oak.  The cocoa is most prominent, with the citrusy/lemony scents following, and then closing with the notes of the oak barrels.  Going back for seconds (and thirds, and fourths) I found the usual rummy scent of molasses, and just a slight touch of leather.  Overall the nose is warm and inviting.
Palate
The nose sent the invitation, and I RSVP'd "YES"! 
The Barcelo Imperial is warm and rich on the tongue, with a very slight oily consistency.  You immediately taste the cocoa and notes of toffee.  There is a light, fruity sweetness in the body, and a mild oak flavor to the finish.  The rum is smooth with a capital "S", "M", two "O"s and a "TH" for good measure.  There is no burn whatsoever in the throat, and just a little warming in the chest.  Unlike the last few rums I've reviewed, there's really no spiciness to this spirit.  It's just warm, wonderful, and soothing.
Just to make sure my notes on this were up to snuff, I made sure that I sampled the contents of the bottle 3 or 4 times in total.  I don't want to be accused of not being thorough…
The Long & The Short Of It
Wow.  Just, wow.  What a fantastic rum.  There's a reason that this rum was called the "Best Rum In The World" by the Beverage Institute of Chicago in 2000 and 2001.  It's smooth and rich…almost decadent.  I know I had talked about not just reviewing the best of the best here, but I can't help the fact that I ended up with an extra bottle of one of the best rums on the market on my shelf.  It's not my fault!!

Dood's Rating: 5 Bottles of Rum Out of 5
Tags: rum, rum reviews, barcelo