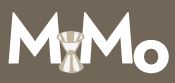 It's that time again.  Time to hunker down and join the rest of the cocktail blogosphere in celebrating our monthly libation worship.  This month's MxMo (graciously hosted by Blair over at TraderTiki.com) is one I couldn't miss.  No really, how bad would I look if I – the host of RUMDOOD.com – did not participate in the MxMo with RUM as the topic?  Somewhere there is a giant computer crunching the numbers to make that determination, but it may take a few years before the sheer magnitude of badness will be calculated.  Let's just settle on, "The Dood would look pretty bad if he skipped the rum MxMo."
Now, you would think that this being a rum blog, a Mixology Monday focussed on rum would be ideal.  How much easier could it get?
In reality, there was a great deal of pressure pushing down on me to make this a good entry.  My reputation is at stake…but what to write about?  I'll be completely honest here…it was a little daunting when I went to pick a rum to write about and ended up staring at this:

That picture is actually a little old…it's missing about 6 bottles (I have an addiction and BevMo and Hi Time Wines are enablers).  All told, there are 54 rums on my shelf as of Sunday night…and no, I did not decide to do a tasting of all of them.
As I've mentioned before, one of the benefits of writing reviews of rums is that – sometimes – makers of rum (or their marketing firms) will contact you and ask if you'd like some samples (with the idea being that you will then turn around and write a review of the sample).  I recently received samples of Depaz Blue Cane Rhum Agricole (look for a review later this week) and their Pure Cane Syrup.  While thumbing through the marketing materials included in the package, I stumbled across a recipe for a "Depaz Midnight Mojito".  A mojito!  There we go!  It's getting in to the summer months, and I just so happened to have a package of fresh mint sitting in my refrigerator, begging to be used in a refreshing cocktail.
Most people make mojitos with white rums.  Oronoco, Matusalem Platino, Flor de Cana White, Bacardi Silver (ew)…all make great mojitos.  Personally, I don't drink a lot of white rums, and there's only so much room on my shelf, so I tend to dabble with the gold rums.  Because of this, the idea of a "midnight" mojito made with a non-white rum didn't scare me one bit.
Per Depaz, a Midnight Mojito is thus:

Depaz Midnight Mojito
8-10 Fresh Mint Leaves
1 oz Fresh Lime Juice
1 oz Depaz Cane Syrup
1.5 oz Depaz Blue Cane Amber Rhum
Squeeze fresh lime wedges into a cocktail shaker.  Add ice and all remaining ingredients into the cocktail shaker.
Shake vigorously.  Strain contents into a chilled martini glass.  Garnish with a sprig of mint.
Pretty basic mojito recipe…I have all of the ingredients…and it gives me an excuse (like I need one) to use my mojito set!  Of course, I didn't follow it to the letter.  No mentioning of muddling the lime and mint?  SACRILEGE!!  Only 1.5 oz of rhum?  No no no no no…none of that will do.  Plus, no one really uses or even needs fresh lime juice anyway.
JUST KIDDING!  Put away your bar knives!  I'm talking to you, Jeffrey!  Put it down and step away slowly…it was just a joke.
One of the key things with a mojito is the use of a muddler.  I have a nice muddler that came with my mojito set, and so after tearing about 10-15 mint leaves and dropping them into my shaker along with my fresh lime juice, I went to work pounding and twisting and grinding the menthol out of the leaves and into the juice.  I then added 2 oz. of rhum (that's French for "rum"), 1 oz of the cane syrup and some crushed ice (thanks to Stu & Alida for the used blender – it's already coming in handy).
I've had debates with people over the use of crushed ice for mojitos.  I don't always do it, but I really think that I should for one very important reason: containment of mint bits.  With crushed ice floating at the top of your glass, you very rarely end up with a mouth full of foliage as you suck down the refreshing Cuban goodness of a great mo'.  When you use cubed ice, there's a higher degree of difficulty in getting a clean draw from the glass unless you cheat and use a straw.
The ingredients sufficiently shaken, I poured them into a tall glass, and then topped with soda and garnished with lime.
I have to say, the Depaz makes a really tasty mojito.  I may have indulged in an additional 1 or 2 after the first one…and I may have tried adding muddled/blended banana in to one of them at some point…maybe….  If I did, it was probably excellent…