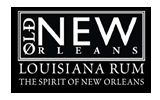 Having just spent a week in New Orleans carousing with other spirit and cocktail bloggers, listening to various expert panels discuss the past, present, and future of spirits and cocktails, and sampling a few wares from various producers, one might say I've got the Crescent City on the brain.
I had so much fun in New Orleans that I'm going to dedicate the entire month of August to Old New Orleans Rum.  Starting next week with a review of the distillery tour I was lucky enough to join while I was in town and then running through the entirety of their line of rums – from white to amber to spiced to the 10 year old – we'll make some cocktails, open a few bottles, and talk about how to make rum with a perfume still.
So I'll bring the rum, you bring the crawfish po'boy and the gumbo, and we'll spend the month of August having fun, cajun style.
Filed Under: rum, old new orleans rum, new orleans