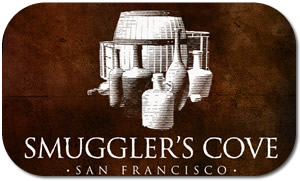 Martin Cate, co-creator of Forbidden Island Tiki Bar in Alameda, judge in the Ministry of Rum Tasting Competitions, rum connoisseur, and all-around awesome guy is opening a new bar this Fall in San Francisco.
I haven't yet written a great deal about bars here (although look for that to change in the coming months), and it's incredibly rare that a press release gets posted on these pages.  Martin's new venture – Smuggler's Cove – however, is a special exception and good reason to depart from the normal.
Martin is a tremendous personality who knows his rum and has been known to nudge me into trying new rums or cocktails, as well as helping me make sure that the information I post here is largely accurate.   His work at Forbidden Island is well-known through-out the Tiki and rum worlds.  I am greatly looking forward to seeing what Martin has been hard-at-work on for the past few months, and don't really want to have to wait until Fall to do so.


SMUGGLER'S COVE COMING FALL 2009 TO SAN FRANCISCO
SAN FRANCISCO, CA- This fall, San Francisco will become home to Smuggler's Cove, a new bar designed to celebrate the incredible diversity and versatility of the world's most exciting spirit: Rum. Smuggler's Cove offers a whole new approach to rum by featuring a vast array of traditional Caribbean drinks, classic libations of Prohibition-Era Havana, and famous exotic cocktails from legendary tiki bars- all under one roof. In addition, Smuggler's Cove will offer an unparalleled selection of rare and premium rums from around the world carefully selected for enjoying on their own or skillfully blended into cocktails. For over a decade, owner and creator Martin Cate has been passionate about rum & tropical cocktails. He was the co-creator, designer and chief mixologist for Forbidden Island Tiki Lounge in Alameda, CA. He has judged in international rum competitions, met with over a dozen rum distillers in five countries, and lectured at Bourbon and Branch's Beverage Academy, Tales of the Cocktail, and Tiki Oasis. "I am very excited to help showcase this wonderfully varied spirit both on its own and in delicious cocktails. A great rum drink can be simple and elegant, or complex and dynamic, but it must always be balanced, approachable, and just a pleasure to drink," says Martin Cate. "Too often, people associate rum with syrupy and artificial drinks and we're here to change that." Martin has traveled the world to learn the rich history and explore the traditional spices and regional ingredients of the world's rum producing countries in order to feature them in the cocktails of Smuggler's Cove. As an award-winning mixologist and member of the United States Bartenders Guild for the last four years, Martin is committed to using only the best quality spirits, fresh-squeezed juices, and housemade ingredients. But while Martin is serious about the drinks, he knows that people are looking for a memorable and fun experience as well. "Smuggler's Cove will be more than just a tiki bar, but it will feature the kind of dramatic, mysterious, and escapist atmosphere that makes a tiki bar so special- and makes rum taste better!" Smuggler's Cove will include waterfalls, vintage nautical décor and rum memorabilia, and relics from some of San Francisco's most famous historic watering holes. Smuggler's Cove will open November 2009 in San Francisco, CA.
For more information, please visit https://www.smugglerscovesf.com/ and sign up on our mailing list to get all the latest news.
About Martin Cate: https://www.martincate.com/press.php
Contact Martin Cate at info@smugglerscovesf.com or 415-869-1900
Tags: martin cate, bars, rum, smugglers cove, san francisco