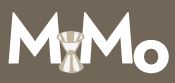 Mixology Monday stares me down in the face again, and this month I've foolishly agreed to be the host of our monthly cocktail party.  I figured I'd throw out a drink submission of my own, however, before my own deadline expired and I was forced to break my own rules.
This month's Mixology Monday theme, as picked by me, is GINGER.  One of my absolute favorite spices.  It's so versatile and useful.  I love using it to nuance existing recipes just a tad, and I think you'll see in the round-up that I'm not alone in that respect.
You can find the round-up of more than FIFTY cocktails submitted for this month's MxMo here. 
Keeping this short, I wandered in to my kitchen today and beheld my newly washed, massive muddler – a gift from Leblon Cachaca.  When I say "massive," I mean "large enough to be used to play professional sports."  This thing is longer than my forearm, and about as big around as the inside of an old-fashioned glass.  Giant muddler (a "Murdler" if you will – thanks Craig), ginger, cachaca…what to do?
2 oz Cachaca
1 oz Simple Syrup
Half of a lime, quartered
Sliced Ginger

Mix cachaca, simple, and ginger in a glass and muddle good and hard.  Add limes and muddle again.  Add ice and stir well.  Garnish with a slice of ginger.