Mardi Gras has found its way to us.  Once again people will fill Bourbon Street in New Orleans for the annual revelry that manages the impressive feat of eclipsing every other celebration in a city that is famous for its celebrations.
One of the most iconic drinks consumed in New Orleans has to be from the famous Pat O'Brien's: The Hurricane.  Served in its synonymous glass and filled with juice and rum, this drink is the perfect way to start a party.
Hurricane

4 oz Dark Rum
2 oz Lemon Juice
2 oz Passion Fruit Syrup

Shake with ice and strain into a hurricane glass (or in its absence a pint glass will do) filled half-way with ice.  Garnish with orange slices and a cherry with stem.
The world-famous Patty-O's Hurricane is a thing of legend.  Sadly that legend has become somewhat tarnished in the modern day.  As with much of Bourbon Street's libations, the Hurricane has degraded over time to help keep costs at a ridiculous low while serving the customer less and less of what made the drink great.
Today you can buy Pat O'Brien's Hurricane Mix in packets, mix with a little rum, and supposedly have an authentic Hurricane.  I would stipulate, however, that you can't even have an authentic Hurricane at the place of it's inception anymore.
The original Hurricane was concocted by Pat O'Brien (go figure) in the 1940's.  The failed social experiment of Prohibition had left the US with a dearth of whiskey.  Of course, since rum had been produced just off of the coast of the US, there was plenty of that to be had, and generally if you wanted to buy a bottle of whiskey for your bar, you had to buy a case of rum as well (which should just be every bar's policy anyway).
Needing to find a way to deal with this glut of rum in an admittedly whiskey and cognac town, Pat O'Brien came up with a drink that used a full FOUR OUNCES of booze.  Some passion fruit syrup and some lemon juice round out the drink nicely, and we have (who else?) Jeff "Beachbum" Berry to thank for rooting through the Dustbin of History to find the original recipe.  Jeff recommends Gosling's Black Seal rum for the Hurricane, but personally I prefer using Coruba by a factor of about a billion point seven.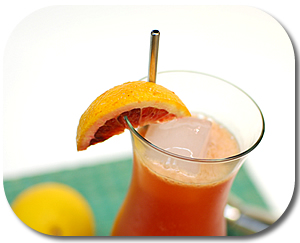 Of course, as the drink has become corrupted over the years, the variations of the recipe have multiplied like rabbits set loose in a Viagra factory.  From mixtures using powders to mixes of rum and Hawaiian punch, the bad recipes are too many to count.  The GOOD recipes are almost as varied – from Dale DeGroff's recipe that calls for Galliano to be added to the mix to the (rather delicious) recipe that Chuck Taggart posted a number of years ago, pulled from the Times-Picayune.
It's a bit sad to think that millions of happy tourists will be stumbling about in the French Quarter with curvaceous glasses of very little rum and a lot of powdered sweetener when the original drink is so much better and really so incredibly easy to make.  If you really want to capture the feel of Mardi Gras at home (and you don't live in New Orleans), be sure to make one of these.
Question of the Day:
What's your favorite New Orleans cocktail?