Recently Dave Stolte set out to change the world with an approachable, stocking-stuffable cocktail book for the average drinker. Rather than pander to baser tastes and recipes though, Dave insisted that the basics of a home bar should include the same foundation as used in a craft cocktail bar.
To do this, Dave gave the world Home Bar Basics (And Not So Basics). This tiny tome is a delightful collection of the recipes that any serious drinker should know, along with guides on the tools and techniques necessary to make them. I recently refused to sit down with Dave as our schedules are really not compatible, and instead corresponded with him via email to find out just what makes him think that an enthusiast can put out a cocktail book that people should totally be buying online or from behind the bar at 320 Main.
RD.COM: So after threatening you with doing a video interview, followed by being beaten to the punch by Ron Dollete over at The Base Spirit for doing an audio interview, I finally have you in my clutches for a TEXT interview, Dave. So tell me, how did you get the idea to do a cocktail book?
Dave Stolte: The book was a convergence of a few different things. I've been dabbling in making cocktails at home for about twenty years. Over time, I found myself in the role of "the cocktail guy" – among friends and family, I was the one asked to make drinks at parties, provide advice about recipes or spirits, stuff like that. In my role as an illustrator, I'd done the occasional cocktail illustration – trying to capture the personality of the drink in a little anthropoboozified drawing. In 2009 and 2010, I did self-promotional calendars sent out to art directors featuring these cocktail illustrations along with recipes, one per month. Then, earlier this year, a friend needed advice about setting up his home bar. I wrote an email back to him that wound up becoming the outline for this book. So all these interests came together: illustration, design, doing something innovative with print, and of course, boozing. Once I started writing, designing, and illustrating, the first draft came together quickly. The will and energy came from the excitement of creating something new and that energy and dedication only increased once I started the fundraising project on Kickstarter.
RD.COM: What were your expectations for the book, going in? How has the experience stacked up to those expectations so far?
Dave Stolte: I wanted to create something of quality, something that had a reason to exist. I wanted the tone of the writing to be conversational and a little flip – like all the best cocktail books I enjoy (Trader Vic's Book of Food & Drink, Esquire's Handbook for Hosts, Cocktail: The Drinks Bible for the 21st Century). I expected it to be useful and entertaining – and to have the approval of pro bartenders. I knew I couldn't rely on my own cloistered, suburban experience to do a proper job, so I got that first draft together and started running it by people with the experience and skill I respect, like Daniel Djang from Thirsty in LA, Eric Alperin from The Varnish, Paul Harrington (who did the Cocktail book mentioned above and the Wired magazine "Cocktail Time" website), Rocky Yeh, Ed Hamilton, Ron Dollete, and you of course. I wanted to get feedback from Jason and Erik at 320 Main, but the timing never worked out. In the end, all these people gave me some great feedback, challenged some of my points, and really helped elevate the content of the book to the level it's at now. I'm very happy with it and I've been getting great feedback from readers. When Gaz Regan recently said, "Run, don't walk, to get this fabulous little cocktail guide with incredible illustrations by Dave Stolte," I had to pinch myself.
RD.COM: How did this all come together?
Dave Stolte: I raised the money for printing through Kickstarter, a website for crowdsourcing funding for creative projects. As that was going on, I was refining the content and design and narrowing down the logistics of where it could be printed. It's done on this special synthetic paper called Polyart – water-resistant and tear-resistant. I thought that made sense for a book like this that would be laid out on the counter, getting wet, carried around in the back pocket or purse. Finding a printer who can do a good job on this synthetic paper and stay within budget turned out to be a bigger challenge than I anticipated – but I finally went with Ginny's Printing in Austin, Texas – and they did a great job.
RD.COM: How has your wife handled the learning and publishing process? I know that I had to get my significant other used to the idea of half of our fridge being full of vermouth, syrups, and other things for making drinks – as well as shelves of barware and bottles – and I just have a website. How'd all that go over for you?
Dave Stolte: Kristin was very patient through the whole process. When I was writing the book, there was a time when I was driving up to LA, about an hour and a half from where we live, up to three times a week – to meet bartenders and bloggers, attend events, and get to know the craft cocktail scene up there. All of that was on my dime and wholly speculative – we didn't know if the Kickstarter project would fund and if the book would actually happen. But she had faith in me (cue Kenny Rogers). Having a second fridge in the garage to store vermouths, syrups, and ice helps. And of course, she was the test subject as I refined the recipes in the book!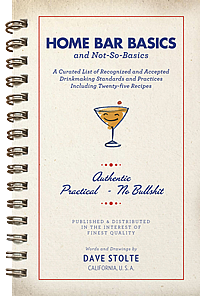 RD.COM: What's been your biggest surprise since the book's release?
Dave Stolte: People asking for a sequel. I just finished this one, for crying out loud! I'll be expanding content on the website homebarbasics.com, but there are no plans for another one right now.
I'd like to thank Dave for taking the time to answer my questions. I'd also like to encourage you to head over to Home Bar Basics and order yourself and all of your loved and even only liked ones copies of his book. It's a fantastic cocktail book and an excellent stocking stuffer.