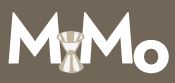 Another month has come and gone, and once again I find myself staring at my calendar with "Write MxMo Entry" staring back at me.  The kind folks over Bibulo.us have chosen this month's theme to be 19th Century Cocktails.  That being the case, I've chosen to write about the Rum Swizzle.
While I know the topic of 19th Century Cocktails sent shivers of delight up the spines of some of my fellow bloggers (*cough* Darcy *cough*), for me it meant that I'd actually have to do some research.  I had originally thought I'd just crack open my copy of Imbibe! and pick a rum-based recipe from there, but there was a slight problem.  Unfortunately for me, my copy of Imbibe! is not in my possession because I loaned it out some time ago, and to be honest, I don't recall to whom.  So if you're out there and reading this, Mysterious Person That Has My Book, please send it back to me.
Without my precious guide, I had to do some digging and pondering.  I considered the various rum drinks I knew from the early 19th and late 18th centuries, and eventually settled on the Rum Swizzle because A) I knew the recipe (actually a few of them) and B) I already had the necessary ingredients.
I realize that there will likely be some purists who will point at me and shout, "That's not a 19th Century cocktail!!  FIE!"  It's true that the swizzle existed prior to 1800.  While there's nothing as simple and straightforward as a birth certificate to examine, one can find the definition of "Swizzle" in the 2nd edition of  A Classical Dictionary of the Vulgar Tongue, written by Francis Grose, Esq. and published in 1788.
"Swizzle: Drink, or any brisk or windy liquor.  In North America, a mixture of spruce beer, rum, and sugar, was so called.  The 17th regiment had a society called the Swizzle Club, at Ticonderoga, A.D. 1760."
Based on this, it would appear that the rum swizzle family of cocktails had been around for nearly half a century prior to 1800 – if not longer.  This information might appear daunting to others who were more faint of heart (or dedicated to the rules of the game) than I, but those people are obviously not me.  I proceeded to look through the numerous recipes for rum swizzles online, in my bartending books, on the backs of bottles, wherever.  I finally settled on the Queen's Park Swizzle recipe, with a substitution.


Old New Orleans Queen's Park Swizzle

3 oz Old New Orleans 10 Year Old Rum
.5 oz Demerara Syrup
.5 oz Lime Juice
3 dashes bitters

Add ingredients to mixing glass with shaved ice and swizzle (stir with swizzle stick)
Unfortunately, I am without a swizzle stick in my home bar.  Yes I know, this article is really highlighting a litany of shortcomings on my part.  Lacking the critical mixing implement, I opted to use a shaker, strain, stir-with-barspoon approach.
The drink is quite good.  The citrus and demerara sugar seem to pull out the smoky flavors in the rum, and the entire drink is very refreshing.  I'd post a photo of the drink, but my camera is currently on its way to Canon for repair, so you'll have to settle for RumDood.com's house artist's interpretation.
*Note: I will actually try to post a real photo of a real cocktail later this week, but trust me, this is still better than the picture I got with my camera phone
Be sure to check out Dood's other Mixology Monday entries
Technorati tags: rum, mxmo, rum swizzle