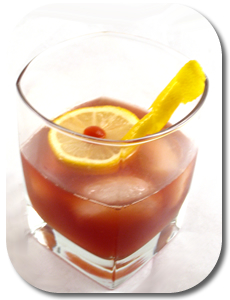 OK, in my Mixology Monday: Spice! post I mentioned that I had been working on a spicy drink recipe using sriracha sauce sort of on a dare.  Well it wasn't ready for that post, and maybe it isn't even really ready now, but after some additional tinkerage tonight, I have something that I'm enjoying quite a bit tonight.
A week or so ago, my fondness for sriracha sauce came up in conversation with a fairly new acquaintence.  It was suggested – most likely in jest – that I should try to come up with a cocktail that used it if I really liked it so much.  Not being one to back down for a challenge, I began to ponder how to use the rooster sauce in a drink.
Then lightning stuck my brain during a conversation in Las Vegas this past weekend: start with a Manhattan and go spicy.  I've been on a bit of a Manhattan kick lately anyway (I know, I'm the Rum Dood and I seem to be on a huge whiskey cocktail kick), so the idea really started to grow on me.

New York Rooster

3 oz Bourbon
.5 oz Sweet Vermouth
.5 oz Port
.25 oz lemon juice
1 tsp honey
2 dashes Orange Bitters
3 drops Sriracha sauce

Shake all ingredients in a shaker with ice.  Chill an Old Fashioned glass and strain cocktail into glass over ice.  Garnish with a lemon wheel with a dollop of Sriracha sauce in the middle.
This drink is just spicy enough, with the flavor of the sriracha sauce mingling nicely with the lemon and bourbon.  If you're someone who wants this even spicier, then just dip your lemon wheel and hot sauce into the drink and let it sit and warm up.  The sweetness from the vermouth, port, and honey are just enough to counter-balance the heat from the sriracha, but if you're going to go hotter, you might want to inch those up a tad.  I am debating whether or not to switch from lemon to lime juice.  Really this drink is still somewhat experimental, but I didn't want to miss out on MxMo, and like I said, I'm a sucker for a good dare.
So try it out, let me know what you think.  Go with more juice?  I'm completely and utterly insane?  Where the heck is the rum?  Where's the price list for the rums you sell?