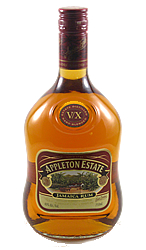 The Appleton Estate line of rums, from the simple gold and white all the way up to their 21 year old and Master Blender's Legacy, are truly spectacular.  I've made no secret of the fact that the collection of rums carefully crafted by Joy Spence – Appleton's Master Blender – is probably my favorite overall collection on the market today.
Rum has been produced on the Appleton Estate since 1749.  In 1916 the estate was purchased by Lindo Brothers & Co. and the new company was named after it's founders, John Wray and his nephew: J. Wray & Nephew Ltd.  JW&N still owns the estate, producing a wide selection of rums in Jamaica's Nassau Valley.  In fact, the rums produced by JW&N represent the majority of rum produced on the island of Jamaica.
The entry-level rum of their Appleton Estate products is the Appleton Estate V/X.  The V/X is a blend of 15 different rums, all aged between five and ten years in used Jack Daniel's oak casks.  After aging and blending, the blended rum is placed into new casks for several months to allow the different flavors and aromas to marry before bottling.
Appearances
The Appleton Estate V/X is a deep gold color in the glass.  A quick swirl of the spirit and the legs form quickly and cling fast to the glass, slowly working their way back down into the bowl.
Nose
The nose is sweet at first glance – err – whiff.  There are strong fruity notes of banana and orange peel, as well as molasses.  There's a bit of a coppery scent riding on top of the other smells as well.  On the whole, the nose is full and powerful, very Jamaican.
Palate
The entry is sweet, with the same fruity notes of banana and orange standing out before giving way to the more sugary taste of the molasses.  There is a touch of a vanilla as a result of the time in oak, and the back end has a nice black pepper spice to it.  Additional sipping reveals flavors of raisin and nuts at the mid-palate.  There's a good level of complexity here.
The mouthfeel is somewhat light and oily – rather pleasant.  There is a fair amount of heat to this rum.  The burn is noticeable at the back of the throat, but not overpowering.  This is a rum you could sip, but I wouldn't call it a sipper.  This is a top-of-the-line mixing rum, and begs to be used in a cocktail.
Mixing
Trying to decide on which cocktail to use this rum for can be a difficult task.  Not difficult in the sense that mixing it is difficult, but rather in the sense that this rum is so mixable that narrowing your choices can drive you to drink.  I'm very fond of this rum mixed with ginger beer in a Jamaican Mule.  It makes a nice, spicy Dark Mojito.  I use it in my mulled apple punch recipes.  It stands out in all of these drinks.
Of course, if you're a regular reader, you're probably familiar with my search for the perfect Mai Tai rums.  I've been sampling different rum combos for weeks.  In the end, my cocktail choice was clear…
Mai Tai

1 oz Appleton Estate V/X
1 oz Demerara or Martinician rum (used El Dorado 5 Year Old)
.5 oz Orgeat
.5 oz Orange Curacao
.25 oz Simple Syrup
.75 oz Lime Juice

Shake all ingredients with ice, strain into a glass filled with crushed ice.  Garnish with a sprig of mint and a lime shell.
Some may quibble over my suggestion that either Martinician or Demerara rum will work in this combo.  It's true that the flavors of the two styles are very very different, but in my testing (24 combos thus far), I've found that with the Appleton Estate V/X, either one makes a fantastic Mai Tai.  Use whichever suits your taste buds.
The Long & The Short Of It
Appleton Estate V/X is another one of those rums that throws off my entire rating scheme.  It is not an elegant sipper, being far too hot and rough for drinking neat.  At the same time, it has grown to be one of my favorite mixers.  It personifies what I think of when I think of "Jamaican Rum".  Its flavors are bold, fruity, and spicy.  It can stand up to the most strongly flavored mixers and yet doesn't overpower the more subtle ones.  So how do I rate it?  As a sipper, it's subpar, as a mixer, excellent.  In the end I had to pick a middle of the road, with the caveat that if you plan on having any sort of reasonable rum collection, this is a rum you absolutely must have on-hand at all times.
Dood's Rating: 3 Bottles of Rum Out of 5
Tags: rum, rum reviews, appleton estate