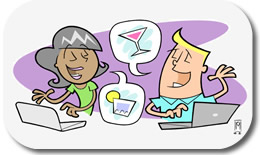 You would think that after a Mixoloseum Thursday Drink Night sponsored by Mount Gay Rum, I would have posted numerous cocktail recipes immediately following the event.  I confess that I've been a bit remiss in taking so long to get to some, but finally, here is the first in a series of cocktails created at the event.
A while ago I had found myself on an El Presidente kick.  The cocktail is just elegant and lovely and just begging for tweaking.  I toyed with recipe variations, adjusting quantities, substituting ingredients, and even searching for the best possible rum to use.  Through a great deal of rigorous, scientific research, I came to the conclusion that Mount Gay Extra Old has to be one of your go-to rums for the drink.  Naturally, with the Mount Gay Extra Old TDN falling so near this specific obsession, I had to come up with yet another variation.

Prime Minister

1.5 oz Mount Gay Extra Old
.75 oz Lillet Blanc
.5 oz Cherry Heering
2 dashes bitters

Mix in a glass with ice and stir.  Strain into a cocktail glass and garnish with a twist of lemon
If I recall correctly, on this particular evening I was also using Cherry Heering a great deal to replace other sweet fruit liqueurs.  The Heering in this drink replaces the orange liqueur as well as the grenadine.  Obviously the Heering isn't sweet enough to completely replace the grenadine, but the change from a dry vermouth to a blanc like the Lillet keeps the drink from becoming too dry.
Obviously I may be a bit biased, but I really enjoy this drink.  I do think about playing with it a bit more, possibly adding a citrus element back in the form of either a teaspoon of orange liqueur or even lemon or lime juice.  Do you have any thoughts on it?  What do you think?