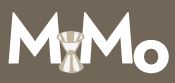 Somewhere along the way I seem to have completely lost my mind.  While I've been participating in Mixology Monday – an online monthly cocktail party hosted by a different site each month – for over a year now, I've not yet had the moxie (lack of sanity?) to try and host one.
Unfortunately for me, during some rum-charged conversation (no doubt) I informed Paul Clarke, founder of our monthly excursions, that I wanted to host in June.  So let it be written!
On June 15, Mixology Monday: Ginger will occur at cocktail blogs around the world!  For the MxMo:Ginger, participation is relatively simple.
Find or concoct a cocktail recipe that uses ginger in one of its many forms as an ingredient.  This can be muddled ginger, sliced ginger, ginger syrup, ginger beer (commercial or homemade), ginger liqueur, ginger candy, or pieces of a shredded photo of Ginger from

Gilligan's Island

.
Make this recipe, take a picture of it, and then post the recipe, your thoughts about the recipe, and your photo on your blog or at the eGullet Spirits and Cocktails forum.
Post a link to your submission in the comments here, or send me an email using the "Contact" form.
Do all of the above by 11:59:59 PM on June 15 and you're a shoe-in to become part of the round-up.
But Dood, I've never created an original cocktail recipe before.
Good news: you don't have to create an original drink recipe!  You are free to find one that already exists, so long as it involves ginger in some form.  Pull the recipe out of a book, a magazine, off of a blog (like this one!), a forum, the contents of a fortune cookie – it's all admissable (although please credit your source).
Does my cocktail have to use rum?
While cocktails made with rum are obviously superior to all other cocktails, it is not required that your submission use rum.  I know that some people are fine with mediocrity, so no one using lesser spirits will be penalized in any way, shape, or form.  Feel free to use whiskey, brandy, gin, or whatever base spirit you like.  Just make a good cocktail.
Wow, Dood!  That sounds so easy!  What can I win if I have the best cocktail recipe/photo/writing?
The love and respect of your cocktailian peers?  To see your name and/or blog talked about on the front page of a major, award-winnning cocktail blog?  A sense of accomplishment that can only be matched by scoring the winning touchdown in the Super Bowl or filling a cup of coffee without spilling it all over yourself?  Isn't participation it's own reward?  Is this too many questions in a row?
*NOTE:  I'm getting reports of errors on the comments page from several people.  It may be safer to use the contact form or email me by putting "dood" in front of the @ sign, followed by "rumdood.com"