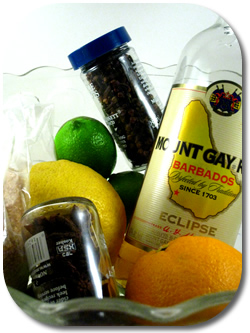 Labor Day approaches, and what better way to wet the whistles of guests to your beach or pool party than a big bowl of rum punch?  How about a bowl of rum punch made with free rum, courtesy of Mount Gay Rum?
RumDood.com and Mount Gay Rum are going to make sure that at least one lucky and creative rum lover out there will be the host-with-the-most with three bottles of Mount Gay rum and a bottle of RumDood homemade falernum.
The Contest
Dust off that old punch recipe your grandparents used to make for holidays, pull out your famous recipe you make for all your parties, or come up with a new and original rum punch recipe that will be perfect for cooling people off for Labor Day, and then submit your recipe here.
The winner of the Labor Day Rum Punch Giveaway will receive a bottle each of Mount Gay Eclipse, Mount Gay Eclipse Silver, and Mount Gay Extra Old Rums, as well as a bottle of RumDood Falernum #2 made by yours truly.  That's right, three bottles of rum and one bottle of falernum – how can you NOT make a rum punch?  As an added incentive, the winner's punch will be written up here on RumDood.com!
Make sure your recipe adheres to these simple rules:
It must be your own recipe (old family recipes also accepted – assuming they're actually old family recipes and grandma wasn't making Philadelphia Fish House Punch and claiming she brought it over from the Old Country).
The base for the punch must be rum.  You may use other spirits as flavoring agents, but rum must be the majority stakeholder in this punch.
Try to limit the "calls" or "named" spirits.  Obviously if you want to specify Mount Gay Rum, no one here is going to complain.
You must be 21 years old or older to compete
You must live within the Continental United States (sorry everyone else, next contest maybe).
Entries must be submitted by 11:59:59 PM Pacific Daylight Time on Friday, August 28, 2009.
Entries may be submitted by emailing them to contests@rumdood.com or by posting them in the comments here.
The How
Simply post your recipe here in the comments, or email them to contests@rumdood.com before August 29, and I'll spend the weekend making and judging them.  Yes, I'll be spending my weekend drinking rum punch, but it's a sacrifice I'm willing to make for my readers.
So get to it, people!  I want something special to make for the last big Hurrah of the Summer, and you want free rum!  Let's see what everyone can do with the old rhyme, "One of Sour, Two of Sweet, Three of Strong, and Four of Weak."
UPDATE: We have a WINNER!  Congratulations to Zack Jerome and his Captain Parker's Punch!