I may continuously protest that this is not a Tiki site and that I am not a Tiki blogger.  The fact remains, however, that if you're going to be doing anything related to rum and mixology, regardless of which side of the stick you find yourself you are probably going to be doing some Tiki drinks.
Not to say that I've ever shied away from Tiki.  I spent an entire week discussing Jeff "Beachbum" Berry, his book (Beachbum Berry Remixed) , and some of his original cocktails.
The Coconaut is another Jeff Berry creation, originally given to the world via his book, Beachbum Berry's Grog Log
.  A mixture of coconut cream, rum, lime juice and a blender full of ice, it's an utterly amazing drink that can pack quite a wallop.
Coconaut

8 oz Coconut Cream
2 oz Lime Juice
7 oz Dark Jamaican Rum

Pour ingredients into a blender full of ice and then pulverize it until it's a slushy, frothy, deliciously smooth mixture.  Serves 2-4 people.
It's not often that you'll see me recommending a drink that calls for a blender.  I have several friends that are trying to break me of my resistance as there are actually quite a few awesome Tiki drinks that employ this device's dark powers of crush and/or puree.  Drinks like this one only help their cause.
Use Coco Lopez for your coconut cream.  I'm sure there are others out there, but unless you're making your own you should just seek out the CocoLo.  It does amazing things in this drink, especially balanced against a great Jamaican Dark Rum like Coruba.
I've seen some people suggest using Myer's Dark Rum, which is often the first Jamaican dark anyone reaches for, but I've never held Myer's in very high regard.  The Coruba  is just better, hands-down.  It provides a nice, funky counterpoint to the sweetness of the coconut cream, both being cut just perfectly by the lime juice.  Plus, after a little digging it appears that Coruba is even CHEAPER than Myers.
The recipe serves 2-4 people or one really, really thirsty Rum Dood.  If you're making it for more than 2 people, I'd suggest being prepared to make 2 or 3 batches of the stuff because it goes down really, really easily.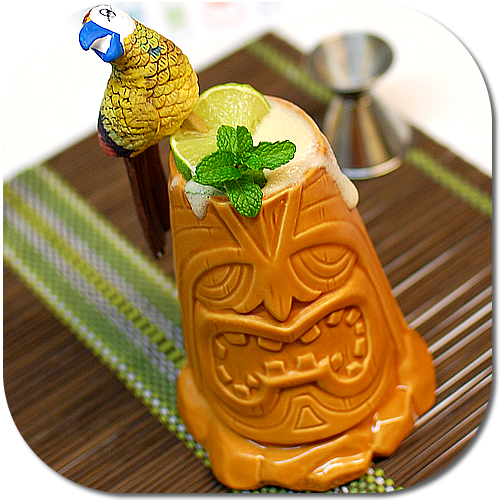 Question of the Day:
What's your favorite drink that requires a blender?