It's Mixology Monday and once again we're coming in at the last possible second to get another great rum cocktail turned in on time.  It's not that I don't plan ahead.  I honestly do.  It's more that planning does not equal doing.  As the saying goes, the path to the bar is paved with good intentions (I'm pretty sure that's how it goes).
Mixology Monday XLVII (MXMOXLVII!) is being hosted by Hobson's Choice.  The rules this month are  pretty simple: make a punch.  There were other guidelines of course, but this being a simple month, they only occupied about a page and a half, including a bit of wisdom from one David Wondrich:
The thing I like to keep in mind while making Punch is that it…should be balanced, not too pungent, not too strong, and preferably not decked out in all sorts of gaudy frippery like something participating in the retail sex trade.
Wondrich, author of Imbibe!
, is one of the people most responsible for our current cocktail renaissance.  If you're looking for an expert on punch you'd be hard-pressed to find anyone more qualified than Dave.
Milk Punch

2 oz Brandy
1 oz Aged Rum
1 tsp Superfine Sugar
1 oz Shaved Ice
Milk

Pour ingredients other than milk into your shaker and then top off with milk.  Shake vigorously and strain into a large glass.  Grate fresh nutmeg on top and enjoy.
I've been reading and hearing about milk punch ever since I was pulled into the cocktail world by nefarious powers much stronger than I.  Every new classic cocktail book or reprint of a really, really classic cocktail book I open has the same recipe over and over and over again.
Milk Punch has been around since at least the early 18th Century – nearly as long as we've had rum to make it with!  The mixture of rum, brandy, sugar, and spice with cream or milk should sound familiar as we find winter coming to an end.  Were drinks animals, this would be perhaps the closest relative and possibly even an ancestor of our still very common Eggnog.
Ingredient-wise the original recipe calls for Santa Cruz rum, a rum that has sadly disappeared from our shelves.  I've seen numerous discussions about preferred replacements.  I don't know what the proper one is for general Santa Cruz replacements, but for the milk punch I have to agree with Dave Wondrich (that guy seems to know a thing or two about drinks) that a rich, aged rum is the way to go.
I'd recommend going with El Dorado 15 Year Old, Zaya, or even a dark spiced rum like Kraken to give this drink a cocoa-like richness that otherwise isn't present.  Make sure you use fresh nutmeg on the top, and Dave recommends serving with a straw, probably to keep those bits of nutmeg out of your teeth.
Personally I'd rather drink some good eggnog, but this somewhat lighter punch in the place of a flip is still damn good and something I have a feeling I'll be toying with for a while.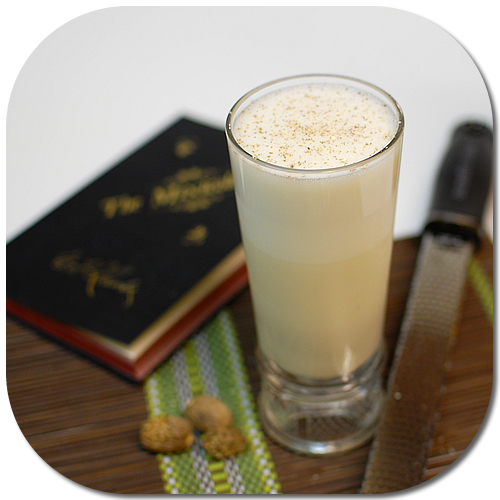 Question of the Day:
What's your favorite punch?