Note: This article was originally written to appear in Tasting Panel Magazine.
In the world of rum, there are iconic drinks that never seem to lose their luster. The Daiquiri, the Mojito,
the Mai Tai – all are drinks that have survived fame, deterioration of cocktail culture, and the cocktail
renaissance – as greats that will always be great.
Representing their countries, thirty-four bartenders gathered in Australia at the end of April for a chance
to win Bacardi's Legacy competition. The contenders were challenged with creating the next cocktail
recipe to stand the test of time.
The competition saw hundreds of bartenders competing – first at the local and regional levels before the
national level – to create an iconic cocktail with Bacardi rum. Bartenders were tasked with creating an
original recipe as well as crafting a narrative around the cocktail. Each had to explain why the cocktail
was special beyond just the mixture of ingredients within. For some this "legacy" was the advice given to
them by a parent. For others it was inspiration drawn directly from the story of the Bacardi family or
their own personal journey.
Bacardi Legacy…is about empowering the bartender to establish a drink to go everywhere for all time…
The Bacardi Legacy competition has been seeking new classic cocktails since 2009 when people like
Enrique Comas, a sixth generation descendant of Don Facundo Bacardi Masso (the founder of Bacardi
Rum), implemented their vision of a new competition to inspire a generation of bartenders. As Comas
describes it, "[a]t its heart, the [Bacardi Legacy] competition is about empowering the bartender to establish a drink to go everywhere for all time."
The competitors craft their drinks and their stories. As they moved through each level of the
competition, from local to national to international, they were encouraged to promote their cocktail.
They did this with the help of their national Bacardi representatives by working shifts at bars around
their countries, encouraging other bars to carry their creations on their menus, and talking to a lot of
press.
Comas says this is in part to promote the brand, but also to help promote the bartenders themselves.
"Our message to bartenders is, 'Our legacy is Bacardi. Your legacy will be this drink.' This competition,
this effort, is to boost them to the level of other legendary bartenders."
Drinks under consideration ran the gamut from elegantly simple to esoteric. Emil Areng, bartender at
Open/Closed in Sweden, created a cocktail using Bacardi Carta Oro, maple, lime, and a house-made corn
foam. Meanwhile others like Federico Tomasselli from Barnum (Italy) eschewed bespoke ingredients for
white rum, lime juice, absinthe, Frangelico, and sugar.
After countless practices and refinements to their presentations, each bartender took their turn, and the
judges reduced the group to eight finalists (a reference to Bacardi's 8, or ocho rum). While the rest of
the bartenders grappled with not moving on, the eight finalists had to practice more and present one
last time.
I have customized the DNA of the most famous rum cocktail…rum, lime, and sugar.
~ Frank Dedieu
Finally, the judges picked their Legacy drink – winner in Frank Dedieu. Dedieu's drink, Le Latin, sat on the
simpler end of the spectrum. You'll find no house-made syrups or bitters, nor any hard-to-find fruits or
herbs included in his recipe, only white rum, white wine, lemon juice, olive brine, and sugar.
Dedieu linked his family's vineyards in the region where Don Facundo Bacardi once sold wine before
departing for the New World with the most iconic rum drink ever.
"I have customized the DNA of the most famous rum cocktail…rum, lime, and sugar. Sugar cane and rum
are the Cuban touch of my cocktail; lemon is the specific citrus and wine represents the French vineyard.
A green olive and its brine balances the cocktail with its salty touch."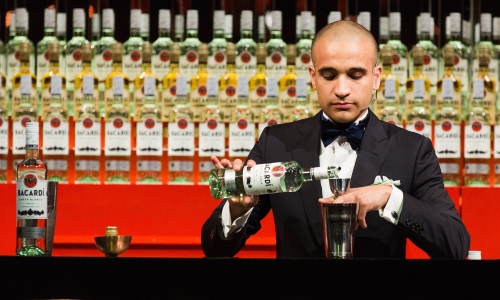 Le Latin
45 ml Bacardi Carta Blanca
20 ml White Wine (Viognier preferred)
20 ml Lemon Juice
6 ml Olive Brine
2 barspoons cane sugar
Shake with ice and strain into a coupette. Garnish with an olive.
*Images in this post courtesy of Bacardi