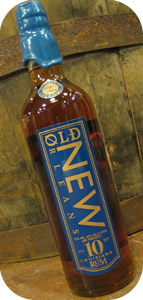 At long last we come to the tearful ending of our journey through the Old New Orleans Rums.  Having started with the Crystal, spent time with the Amber, and rejoiced in Cajun Spiced's embodiment of the holidays, it is now time to discuss the final offering from Celebration Distillation: Old New Orleans 10 Year Old Rum.
The story of this rum is a story of perseverance and rebirth, just like the city that it calls home.  In the aftermath of Hurricane Katrina, the staff of Celebration Distillation returned to their distillery to find it had flooded.  The water had reached heights of up to eight feet.  As the tale is now told, bobbing up and down amidst the debris in these flood waters were numerous barrels of older stock that had essentially been forgotten.  The rum in some of these casks had been aging for 10 years, and as Celebration put itself back together, 17 of these barrels were blended into a single rum.
Old New Orleans 10 Year Old is distilled and blended to 80 proof (40% abv).  Caramel is added to the blend prior to bottling to combat what Master Distiller Chris Sule felt was too strong of an influence of the oak barrels.  The rum is bottled and labeled with a blue label, with the cork covered in wax.  Each bottle is also labeled with hand-written sticker to denote which of the limited release bottles you have received.  I happen to be the proud imbiber of bottle #370 of 720.  With such a limited stock available you might be wondering what stores you need to visit to secure a bottle of your own.  No need to worry because you can't buy these bottles in stores.  These bottles of rum can only be had by purchasing them at the distillery – unless you know someone who already has a bottle and is willing to share.  The tour of the distillery is more than worth the cost of a trip to New Orleans on its own – and the opportunity to buy some of this rum is just icing on the cake.
Appearances
Old New Orleans 10 Year Old Rum is the color of light honey.  The pleasantly gold spirit has thick legs that slowly work their way down the sides of the glass.
Nose
Done with the preliminary inspection, it's time to check out the nose.  The rum is light and fruity up front, with notes of apple and banana.  Behind the fruit aromas is the scent of caramel and a hint of nutmeg.  There is just a touch of black pepper.
Palate
Light bodied, with an almost buttery texture to it, the smooth entry of the rum leads to an almost immediate peppery taste.  Most rums aged for 10 years aren't as spicy as this, and it's a welcome surprise.  The oak notes that you'd expect in a rum that spent so many years in an oak cask are very subtle – subsumed under the notes of copper and overripe banana.  There's a smokey quality to the 10 Year Old, with just a touch of leather.  The spicy finish is quick and clean, and followed with a noticeable burn in the chest as it travels down your throat.  Despite the burn, this is an excellent sipping rum that does just fine being enjoyed neat.
That being said, I wouldn't go so far as to call the idea of mixing this rum in a cocktail a tragedy or blasphemy.  Having already used the Old New Orleans 10 Year Old in a Swizzle for Mixology Monday: 19th Century Cocktails, I decided that I should try something else and add that Old New Orleans Flair.  I took Tiare's favorite Planter's Punch recipe and tweaked it a bit for the rum at hand.
Old New Orleans Planter's Punch (original recipe courtesy of Tiare from A Mountain of Crushed Ice)

4 oz Old New Orleans Crystal Rum
4 oz fresh orange juice
2 oz fresh lemon juice
2 oz fresh lime juice
1.5 oz grenadine
1 tsp simple syrup

Shake and pour over crushed ice.  Add 1 oz float of Old New Orleans 10 Year Old.
This drink is tangy and just sweet enough, with a good punch from the float of 10 Year Old.  I could easily drink these until I was unable to operate my blender.
The Long & The Short Of It
The Old New Orleans 10 Year Old Rum is a great rum.  It can be used to add character and style to a cocktail, or enjoyed just on its own.  This kind of versatility is something to be celebrated.  If you have an opportunity to visit Celebration Distillation, in addition to stopping by for a tour, be sure to pick up a bottle of this incredible rum.  You won't regret it.
Dood's Rating: 4 Bottles of Rum Out of 5
Have you tried this rum?  What did you think?
Tags: rum, rum reviews, old new orleans, old new orleans 10 year old