Ron Diplmomatico Blanco is the newest rum to be brought to us by Distilerias Unidas in Venezuela.  For over 50 years the distillery in La Miel has produced several lines of rums which can be found all over the world.
The Ron Diplomatico line of products has long had shelf-space in my collection.  The Reserva Exclusiva is a personal favorite and I was first exposed to the new Blanco rum in London at the 2008 UK Rumfest.
It has taken some time, but the Diplomatico Blanco has made its way to the shores of the USA.  According to Distlilerias Unidas, the rum is distilled 4 times before being aged for up to 6 years in oak casks and then blended and filtered through 5 runs of charcoal to strip all color from the spirit – leaving it clear, crisp, and light bodied.
Appearances
The rum is almost perfectly clear.  There is no discernible green tinge that you sometimes find with oak-aged white spirits.  When swirled in the glass the legs form thickly and very slowly work their way down into the bowl.
Nose
A quick whiff from the glass tells us that this is a very light-bodied rum.  Light, sugary notes are the first to hit the nose, followed by some very floral top notes.  There's a touch of caramel just underneath those flowery scents.  The nose is nice, but very delicate and light.
Palate
At first taste the Diplomatico Blanco is sweet.  "Sugar!" is the first thought that crosses your mind on your initial sip.  The sweet entry is followed by a rather surprisingly savory mid-palate.  Butter and vanilla seem to arise very pleasantly out of nowhere.  The flavor is light, but much richer than expected based on the nose.  At the back of the palate you find citrus notes of lime and lemon peel before a very nice and soft finish with no burn.
While richer than expected based on the nose, the flavor of the rum is still considerably light and delicate.  The umami (savory) characteristics of the mid-palate are a very welcome surprise on the tongue.  Without them the rum would be almost completely lost after the first, sugary taste.
Mixing
The lightness of the Ron Diplomatico Blanco means that it should work in any drink that showcases the rum above all else.  Cocktails using strongly-flavored ingredients will likely overwhelm the delicacy of the Blanco, leaving you searching your palate for that rum you spent close to $40US on.
The drinks I'd highly recommend for the Blanco are:
Daiquiri (a no-brainer, really)
Mojito (again, easy call)
Hemmingway Daiquiri (go light on the maraschino)
Rum Julep
"Rum Rose"
All of the above-mentioned cocktails are perfect for a light-bodied rum with sugary but delicate flavors.  Of course, I had to find one more, so I decided I'd make up a drink that was developed by Matt Wallace at Seven Grand, my favorite Whiskey Bar in LA (yes, a rum drink developed in a whiskey bar – you can't escape rum).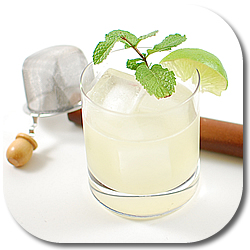 Lilly Blossom
Matt Wallace of Seven Grand, LA
2 oz White Rum
1 oz Lillet Blanc
.75 oz Lime Juice
.75 oz Honey Syrup
2 drops Orange Flower Water
2 sprigs Mint
Muddle 1 sprig of mint with syrup and rum in your mixing glass, add the remaining ingredients and shake with ice.  Strain over ice into a Double Old Fashioned glass, garnish with mint.
The Long & The Short Of It
Ron Diplomatico Blanco is a superb white rum.  It is clean, sweet, and floral – all things you would want from a white rum, and without any harsh alcohol burn at the finish.  This is easily an enjoyable sipping rum, not unlike Oronoco, though somewhat limited when it comes to mixing.
I do have to admit that I'm curious about the production process.  The savory quality of the rum is completely unexpected in a spirit that gets distilled 4 times and filtered another 5.  It's a process I'd definitely like to learn more about.  Until I can find a way to get to Venezuela though, I'll just have to settle for exploring the rum in my glass.
Dood's Rating: 4 Bottles of Rum Out of 5
This site accepts samples for review. Please review our Policies & Disclaimers
Other Reviews of Diplomatico Blanco
Refined Vices
A Drink With Forrest
Waylaid In The West Indies