This is a guest post from Humuhumu [https://www.humuhumu.com] – a designer, programmer and tikiphile living in San Francisco where she has nearly unfettered access to what may be the best rum bar in the US, if not the world or even possibly the Solar System: Smuggler's Cove.
The Space: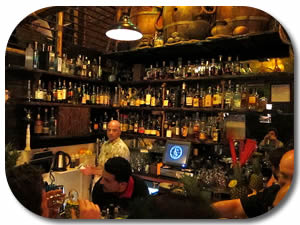 Most everyone who walks into Smuggler's Cove thinks the same thing: "pirate bar." I can't say that those people are wrong,  especially since it looks more like Disneyland's Pirates of the Caribbean ride than anything else. But the thing is: it's Smuggler's Cove, and pirates != smugglers. Smugglers had a few things in common with pirates: rum, evading the law, hanging out in the Caribbean. But they had different modi operandi. Pirates stole, smugglers didn't pay their taxes.
Now, I don't imagine that pirates were paying taxes on the stolen goods they were moving, but by and large smugglers weren't  stealing and didn't tend towards violence. Maybe I'm splitting hairs. Look, let's not get hung up on these things. It's a rum bar. It's the prettiest damned rum bar you'll find.
I won't describe it past that. Some things are best experienced in person.
The Rum:
Smuggler's Cove has over 200 rums, making it the largest rum list in the Bay Area, and probably second in the nation (after Rum Jungle in Las Vegas). It's made all the more impressive by its omissions: the list could easily be puffed up to a much higher number, but owner Martin Cate simply will not stock uninteresting crap. No silly flavored rums, none of the mass-market Bacardi slop, and for goodness sake, no Captain Morgan's. (Some Malibu will occasionally make an appearance in the bar, but only in the context of horrific hazing rituals.)
Those interested in experiencing them all should enroll in the Rumbustion Society. Milestones are celebrated at 20, 100 and 200 rums, and recognition comes in the form of access to the vault of rare rums, a rather natty fez, and once all 200 rums are completed, a trip to visit a rum distillery.
The Drinks: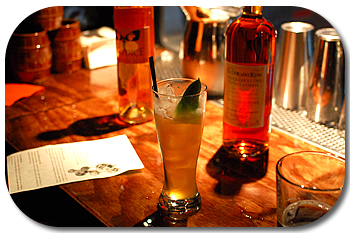 There is no well rum here. More than two hundred different rums are used in making the menu's seventy-seven cocktails, including some rums available only at Smuggler's Cove and nowhere else. There are innumerable different syrups, flavorings and tinctures used, mostly homemade. All fresh juice—very fresh, Martin is maniacal on that point. Nothing goes into the glass that isn't high quality.
The drinks themselves were selected with the same care as the ingredients that make them. The menu is itself an education in the
history of rum, with drinks arranged chronologically from the mid-1700s to today. Included are simple pre-cocktail drinks, punches, prohibition era drinks, traditional drinks from the Caribbean and further south, tiki drinks, and of course modern creations. Like the rum list, a celebration is in store when you finish the list of cocktails. I've tried them all, and I've loved all but one… I won't tell you which, because with that kind of success rate, I have to question whether it's a personal failing on my part.
The People:
San Francisco's pool of cocktail talent is famously deep, and yet somehow this one little bar is bogarting more than its fair share of the best of San Francisco's best. Most of the bartenders have headed up their own bartending programs at rather prestigious venues, and hold award after award to show for it. But they would rather be here, even though the drinks are quite likely the most challening, the most labor intensive, in the city. Or maybe because of the challenge. I don't want to question it, I just want to enjoy it.
The other side of the bar is pretty swell, too, I must say. The Cove attracts a friendly crowd, a casual, come-as-you-are crowd. The patrons tend to be jovial, and seem to always know how to handle their liquor with at least a little grace. If you come in on a Tuesday, you'll probably see me there. I'll help you pick out your first drink.
And last but not least… all of the details above, every single last one, plus a thousand more that I didn't cover… it's the vision of one man, Martin Cate. He has drawn together a lot of talented people to execute his vision, but it is unmistakably his; this little corner of the world is pretty pure projection of Martin Cate. We're damned lucky to have him in our town.
Humuhumu [https://www.humuhumu.com] is a designer, programmer and tikiphile living in San Francisco.