Created in Trinidad, constructed with Guyanese rum and a heavy dose of Trinidad's most famous product, it's awfully hard to turn down a Queen's Park Swizzle.  The drink is so refreshing and delicious that in 1946 one Trader Vic declared the Queen's Park Swizzle to be "the most delightful form of anesthesia given out today."
Sure, that was in 1946, but the recent resurgence of rum has seen a lot of incredible tropical drinks that were well-past their original heyday return with a vengeance.  In bars all over the US, if they have a strong rum selection, they probably have a Queen's Park Swizzle on the menu.
Queen's Park Swizzle

3 oz Demerara Rum
.75 oz Lime Juice
.5 oz Simple Syrup
3 Heavy Dashes Angostura Bitters
Fresh Mint

Add ingredients and shell of the lime you just juiced into a tall glass.  Fill the glass with crushed ice and swizzle until the glass frosts over.  Garnish with a large sprig of mint.  Serve with a straw.

You want to be sure to use simple syrup that's at least 2:1 sugar to water, and if you want to really do it right you'll use Demerara syrup like they do in Trinidad. For a little added color/flair, once you've got the drink good and cold, add another 2 dashes of Angostura bitters on top.  This will add some of the aromatic qualities of the bitters, as well as give the drink a nice, sharp, red layer on top.  Finish by topping the drink with a little more crushed ice (hat-tip to Eric Alperin of The Varnish in Los Angeles – which is where I took the photos for this post – for showing me his approach to the drink).
Rum Recommendations:
El Dorado 12 Year Old
Coruba + 1 other, lighter Jamaican Rum
Of course for the Demerara Rum, if you're in the US your options are limited.  Lemonhart 80 Proof is what I often see recommended, but I prefer either El Dorado 12 Year Old or El Dorado 15 Year Old.  If you're feeling a bit adventurous, or don't have access to the liquid gold that is Demerara rum, I'd recommend going with something like Ron Diplomatico Reserva Exclusiva or possibly a blend of Coruba and Appleton Estate V/X (Coruba by itself might be a tad too heavy).  I'll confess to having made this with Smith & Cross Jamaican Rum as well and enjoying it on a level that probably isn't legal in some countries.
The Queen's Park Swizzle is just a fantastic drink.  It begins with aroma that's a heady mixture of Demerara rum, bitters, and mint.  A sip through the straw and if you weren't already sitting on sunny, sandy beach somewhere in the tropics, you'll be half-way there before the second sip.
The real trick to making the Queen's Park Swizzle – or any swizzle drink for that matter – is really, well, the swizzling.
What is swizzling and why is it awesome?
Swizzling is not stirring.  It isn't shaking.  You can't do it with one of those plastic swizzle sticks that you find in so many Tiki drinks.  Those things are really just decoration.
The real Swizzlestick comes from the Swizzlestick Tree (Quararibea turbinata), which grows on Caribbean islands like Martinique.  Swizzlestick trees grow such that their branches and twigs all diverge from each other at close to 90 degrees in something akin to a star burst pattern.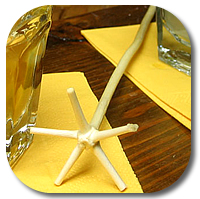 Swizzlesticks are cut from these trees and then cut to create a long handle with an end that has 5 or 6 small, strong tines (for lack of a better word) that seem to burst outward from the central handle.  Fill a glass with rum, gomme and lime and some crushed ice and then insert the stick with the handle up so that the tines are all at the bottom and then spin left and right as fast as you can by rubbing your hands together with the handle in between them.  You'll quickly see the drink's contents start to move through the ice, and as you move your stick higher and lower in the glass you'll notice frost start to appear on the sides.
Of course, swizzlesticks aren't easy to come by.  I'll admit to having more than one, but I also happen to be friends with several people who travel to Martinique rather frequently.  I'm not aware of any stores or online marketplaces that carry them, which pretty much means that you're left with 3 options:
Fly to Martinique and buy all the swizzlesticks you can.  Pricey, but fun and effective.
Use a barspoon, twirling it in your hand like a swizzlestick instead of stirring.  This is a so-so approach.  It'll get the job done, but it's sub-optimal.
Check out Chris Stanley's guide to making your own swizzlestick (I have one of these as well and they're great!).
Once armed with your swizzlestick you'll find it hard not to make excuses to enjoy a Queen's Park Swizzle…repeatedly.  Bad day?  Swizzle!  Good day?  Swizzle!  Hot outside?  Swizzle!  Snowing?  Swizzle under a blanket!
Question of the Day:
Have you ever made a swizzle before?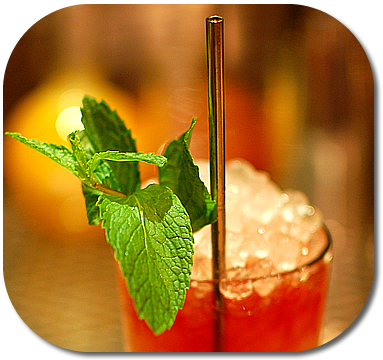 * Swizzlestick Photo courtesty of TraderTiki.com